We at the Center for Technology-Enhanced Learning are committed to the continuous and systematic development of media use in teaching in order to actively shape the future of teaching at KIT. Together with you, we want to advance digitization in teaching and in the communication of science at KIT. Please contact us for further information on our range of services or for advice on your individual project.
The Center for Technology-Enhanced Learning (ZML) is a scientific institution of the House of Competence (HoC), the central agency for teaching key competencies at the Karlsruhe Institute of Technology (KIT).
Center for Technology-Enhanced Learning
The new newsletter was published!
We look back on an exciting semester. The Corona crisis has led to some challenges in digital teaching and will continue to be present in the following semester. In our newsletter we will inform you about current developments as well as other projects of the ZML.
To the newsletter registration
Successful web relaunch of ZML website
Regular transformation and adaptation is more important today than ever. Since last week the ZML website has a new design. Not only the design is now responsive and modern, but also the structure of the website has been adapted to the needs of our website visitors.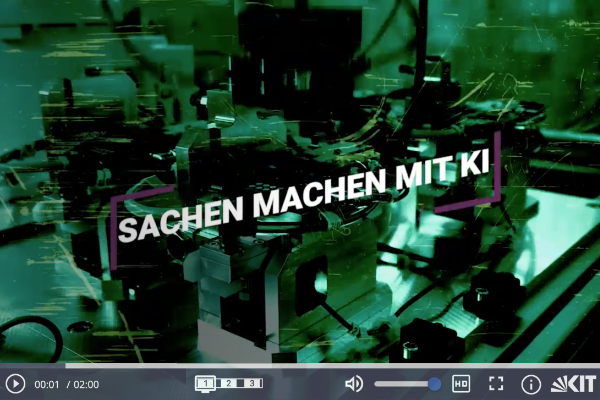 Interactive video player
The latest innovation from the ZML is an interactive video player in which up to three different image and sound tracks can be integrated simultaneously. This allows viewers* to explore a topic from different perspectives. The first video has already been produced.
More information
Digital People Interviews
In our Digital People Interviews we introduce you to people who have immersed themselves in the digital world and help shape it through new structures, their teaching or innovation(s).
Prof. Dr. Dr.-Ing. Dr. h. c. Jivka Ovtcharova

Episode 9: Prof. Jivka Ovtcharova
In the ninth episode Jivka Ovtcharova answers our questions. The professor with a double doctorate in mechanical engineering and computer science is head of the Institute for Information Management in Engineering (IMI) and director of the Research Center for Computer Science (FZI). With the focal points of her institute, Prof. Ovtcharova makes a decisive contribution to making traditional engineering work based on modern technologies such as virtual reality and artificial intelligence fascinating and tangible. Her work focuses on the Resourceful Human and its role in the comprehensive digital transformation of science, economy and society.

To the interview (in German)


Prof. Dr. Jörn Müller-Quade

Episode 8: Prof. Dr. Jörn Müller-Quade
In the first Newsletter 2020 Professor Dr. Jörn Müller-Quade answers our questions. He is head of the research group "Cryptography and Security" at KIT and director at FZI. He is speaker and initiator of the KASTEL competence center. His research focuses on secure cloud computing, secure multi-party computing, security definitions and models, and hardware trust anchors.

To the interview (in German)


PD Dr. Gudrun Thäter

Episode 7: PD Dr. Gudrun Thäter
In the seventh episode Gudrun Thäter answers our questions. She is a member of the Faculty of Mathematics and researches mainly in the fields of mathematical flow theory and modelling in the context of fluids. In addition, she is involved as an information officer and has created a podcast together with Sebastian Ritterbusch.

To the interview (in German)